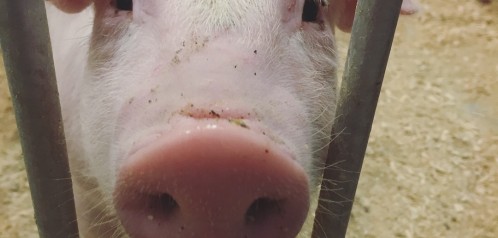 The Sustainable Resources program combines cross-curricular class work and field experiences to explore BC's natural resources sectors: agriculture, fisheries, forestry, mining and energy.
At the school, students work in the garden, raise chickens and coho salmon, participate in a variety of science experiments, and enjoy guest visits from a variety of farm animals including pigs, turkeys, and a yearly visit from a calf.
Field trips include visits to the EcoDairy, the Pacific Dairy Expo, Kilby Historic Site, the Chilliwack River Fish Hatchery, a variety of chicken farms, and the Chilliwack Community Forest.
This class has also partnered with the University of the Fraser Valley to offer students the opportunity to attend the university in the Explore Agriculture program. Students learn from industry experts and use the university's barns and greenhouses. They also receive several industry certifications.
The goal of these experiences is to bring to life the Sustainable Resources 11 and 12 courses, which are ministry recognized science courses. Also, the program strives to introduce students to local career opportunities and give them the skills they need to pursue them.
Other courses students can complete in this program include: Apprenticeship and Workplace Math 10 and 11; English or Communications 10, 11 and 12; Planning 10, Physical Education 10, 11 and 12; and Tourism 11 and 12.
Teacher: andrew_schroeder@sd33.bc.ca
Education Assistant: cyndie_brears@sd33.bc.ca